TALON BIG BUBBLE Liquid Gas Leak Detector Dauber Formula
TALON BIG BUBBLE is a noncorrosive, nonfreezing, nontoxic fluorescent yellow liquid leak detector for natural gas, refrigeration, nitrogen, air, carbon dioxide and other pressurized gas. TALON BIG BUBBLE'S water soluble polymer detects large and small leaks by forming bubbles which remain for up to 10 minutes.
High Viscosity Formula

Easily Detects Gas Leaks

Longer Lasting Bubbles

Nontoxic, Noncorrosive

All Temperature Application
AVAILAIBLE IN: 1 oz. (29.6 ml) Yorker Bottle - Stock Code: LD1OZ, ½ pint (237 ml) Dauber Top Container - Stock Code: LD8, 1 Gallon (3.785 L) Plastic Jug w/ Spout - Stock Code: LD1, 5 Gallon (18.9 L) Plastic Pail w/ Handle - Stock Code: LD5, 55 Gallon Drum (208 L) - Stock Code: LD55, and 275 Gallon (1041 L) Tote - Stock Code: LD275
Custom blending available on 55 Gallon (208 L) or larger.
Will not cause corrosion or deterioration of metal, copper, brass or plastic. Non-staining dauber formula. Not recommended for oxygen systems.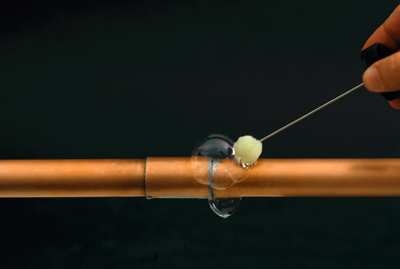 TEMPERATURE RANGE USE*
-7ºF (-21ºC) to 212ºF (100ºC)
COLOR/CONSISTENCY
Fluorescent Yellow Liquid

U.S FEDERAL SPECIFICATIONS
Meets Federal Specification MIL-L-25567-C.

ASTM SPECIFICATIONS
Meets ASTM G188-05

*Custom temperature blends also available. 55 Gallon minimum order.

Safety Data Sheets

Spec Sheets

Product Features
Product Name
Product Code
Size
Container
Items Per Case
Case Weight
UPC Code
TALON BIG BUBBLE Liquid Gas Leak Detector
LD1OZ
1 oz. (29.6 ml)
Yorker Bottle
36
4 lbs. (1.8 kg)
688544014679
LD8
1/2 Pint (237 ml)
Dauber Top Container
24
16 lbs. (7.3 kg)
688544080322
LD1
Gallon (3.785 L)
Plastic Jug w/ Spout
6
55 lbs. (24.9 kg)
688544014815
LD55
55 Gallon (208 L)
55 Gallon Drum
1
502 lbs. (227.7 kg)
688544550320