BLACK FLASH Flashing Cement Compound
BLACK FLASH Flashing Cement Compound is a superior compound used for sealing around flashings and chimneys, repairing leaks in roofs, gutters and old flashings. It is an all-weather sealant made of only the highest quality, tough plastic asphalt oils with long-fibers. Non-hardening; BLACK FLASH stays pliable in any weather. Can be applied to damp surfaces; never pulls away from the joint. Won't crack at any temperature.
Available in a caulk cartridge or bulk. Can be applied with putty knife or trowel. Works well to seal and fill in holes, cracks and crevices to create a permanent seal. Its excellent adhesion ensures that all entrapped air is eliminated. Tools can be easily cleaned with common petroleum solvents.

COLOR/CONSISTENCY
Black heavy paste

TEMPERATURE APPLICATION USE
30ºF (-1ºC) to 120ºF (48ºC)

TEMPERATURE RANGE USE
-70ºF (-56ºC) to 140ºF (60ºC)

DRYING TIME
Set time: 1 hour to touch. Complete cure time is 12 hours.
Meets Federal Specifications SS-C-153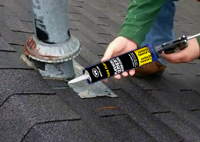 Safety Data Sheets

Spec Sheets

Product Features
No Product Features Found.
Product Name
Product Code
Size
Container
Items Per Case
Case Weight
UPC Code
BLACK FLASH
BFC
1/10 Gallon (.37 L)
Cartridge
12
11 lbs. (5 kg)
688544100495
BF32
Quart (.95 L)
Can
12
33 lbs. (15 kg)
688544320497
BF1
Gallon (3.785 L)
Can with Handle
4
40 lbs. (18.1 kg)
688544010497
BF5
5 Gallon (18.9 L)
Pail with Handle
1
47 lbs. (21.3 kg)
688544050493