PRO-STRIPE Inverted Aerosol Athletic Turf Marking Paint
PRO-STRIPE Inverted Athletic Aerosol Turf Marking Paint is formulated to last long, remain bright and not harm grass or any sports field covering. Get up to 1/2 mile of 3-inch wide stripe per case. Whitlam's PRO-STRIPE athletic marking paints are specifically designed for marking lines, numbers and logos on all types of athletic fields. Our exclusive formula is bright, long lasting, non-toxic, and environmentally friendly and has low VOC's to be used on both natural and synthetic turf.
PRO-STRIPE Athletic Aerosol can be easily applied by hand, wand or Pro-Striper marking machine. The universal spray tip allows the product to be used with most other marking machines providing a clean, crisp line up to 4-inch wide and approximately 250 feet in length per 20 oz. can. White aerosol contains optical brighteners for maximum reflectance under UV stadium lights and sunlight. Variety of colors are available. All of which will not harm grass, uniforms or players.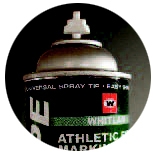 Universal Spray Tip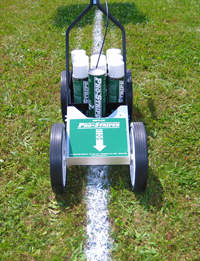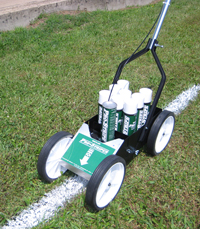 Safety Data Sheets

Product Features
No Product Features Found.
Product Name
Product Code
Size
Container
Items Per Case
Case Weight
UPC Code
PRO-STRIPE Inverted Aerosol Turf Marking Paint
PSA-HOT ORANGE
18 oz. (532 ml)
Boxed
12
20 lbs. (9.1 kg)
688544025733
PSA-NAVY BLUE
18 oz. (532 ml)
Boxed
12
20 lbs. (9.1 kg)
688544055730
PSA-RED
18 oz. (532 ml)
Boxed
12
20 lbs. (9.1 kg)
688544045731
PSA-WHITE
18 oz. (532 ml)
Boxed
12
20 lbs. (9.1 kg)
688544015734
PSA-YELLOW
18 oz. (532 ml)
Boxed
12
20 lbs. (9.1 kg)
688544035732