PIPE SLIME Pipe Gasket Lube
PIPE SLIME is an emulsified polymer based lubricant that is specially formulated to prevent turbidity, taste, and/or odor problems in new gasketed pipe water main installations. Great for use with mechanical couplings. PIPE SLIME will not sweat out of the joint or lose its consistency in any climate.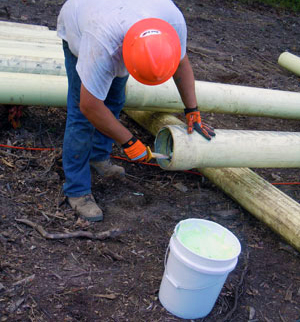 A green viscous gasket lubricant for lubricating all rubber and plastic gaskets used in mechanical pipe coupling including, C900, C900/RJ™*, SDR, HDPE, Polyethylene, Polypropylene, PVC and Ductile pipe and fittings. PIPE SLIME insures proper alignment of gaskets for correct fit during pipe installation. It works well on wet or dry surfaces and is nontoxic and suitable for use on potable water systems. PIPE SLIME is odorless and cleans up easily. Safe for use on all metal, plastic and rubber gasketed pipe. Excellent for jobs in all weather conditions.
All weather formula is excellent for low-temperature applications. Temperature Range Use: 0°F (-18°C) to 150°F (66°C).
Anti-Bacterial Formula
Non-Reactive to Chlorine Solutions**
Water Soluble
Easily Flushes from the System
Easy Cleanup
Meets NSF Standard 61

*C900/RJ™ is a CertainTeed Trademark
**Avoid Direct Contact with Calcium Hypochlorite

Safety Data Sheets

Spec Sheets

Product Features
Product Name
Product Code
Size
Container
Items Per Case
Case Weight
UPC Code
PIPE SLIME
SLIME16
Pint (473 ml)
Plastic Container
24
30 lbs. (13.6 kg)
688544165609
SLIME32
Quart (.95 L)
Plastic Container w/ Twist Top Lid
12
28 lbs. (12.7 kg)
688544325607
SLIME1
Gallon (3.785 L)
Pail w/Handle
4
37 lbs. (16.8 kg)
688544015607
SLIME5
5 Gallon (18.9 L)
Pail w/Handle
1
45 lbs. (20.4 kg)
688544055603
SLIME55
55 Gallon (208 L)
55 Gallon Drum
1
500 lbs. (226.8 kg)
N/A