TALON Citrus Hand Cleaner with Walnut Shell Scrubbers
TALON Industrial Hand Cleaner is a premium citrus based hand cleaning lotion with environmentally friendly crushed walnut shell scrubbers for optimal deep cleaning. The pulverized walnut shells are a renewable source and help keep drains flowing smooth. TALON Hand Cleaner is also formulated with citrus peel extract, D-Limonene, that is combined with a powerful environmentally responsible surfactant blend to remove stubborn industrial soils like grease, ink, oils, resin, paint, adhesive, tar, carbon, and asphalt. Fortified with lanolin and supreme skin conditioners to prevent cracking and peeling of hands. Leaves no residue and provides a fresh citrus scent.
• Superior Emollients and Conditioners
• Natural Walnut Shell Scrubbers
• Washes Away with No Greasy Residue
• Biodegradable and Phosphate Free
• Eliminates Drying and Cracking
Recommended Use: Heavy-duty, lotion formula with walnut scrubbers and a citrus scent. pH-balanced and very effective at cleaning tough soils. Cleansing agents dissolve grease, paints, inks, and many other hard to remove soils. Fortified with lanolin to help keep hands soft and smooth.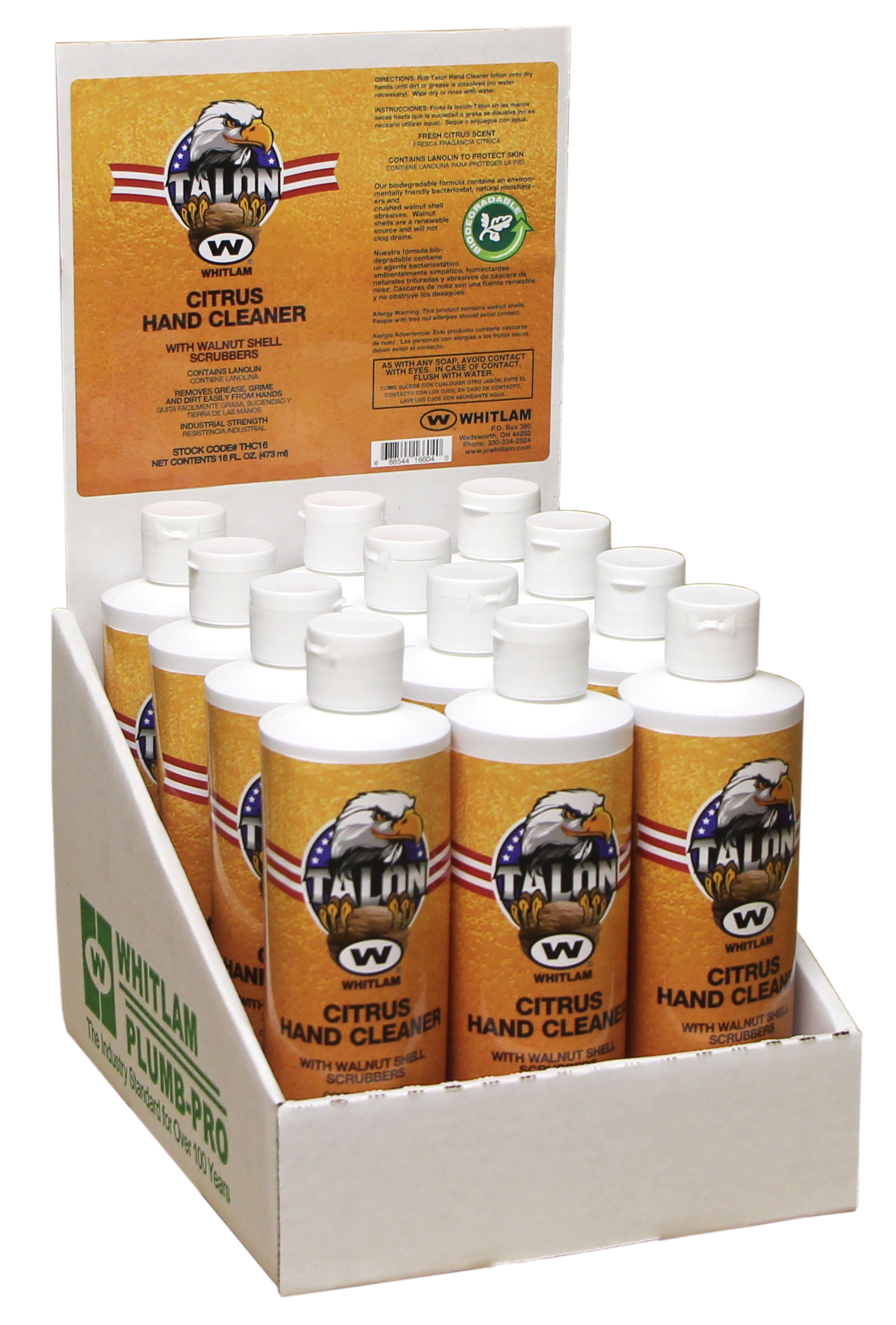 Safety Data Sheets

Spec Sheets

Product Features
Product Name
Product Code
Size
Container
Items Per Case
Case Weight
UPC Code
TALON Industrial Hand Cleaner
THC4
4 fl. oz. (118 ml)
Plastic Container
24
8 lbs. (3.6 kg)
688544046045
THC16
16 fl. oz. (473 ml)
Plastic Container
12
16 lbs. (7.3 kg)
688544166040