Round Cotton Swab Applicator
Wire-handle swab for applying large quantities of Pipe Gasket Lubricant or PVC Cements, Primers and Cleaners to pipe and fittings.
4" (10 cm) wide cotton swab with 11" (28 cm) wire handle works excellent on pipe that is 6" (15 cm) diameter or larger.
When applying solvent weld cements and primers the applicator size should be greater or equal to 1/2 the pipe diameter.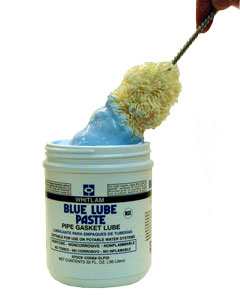 Swab dimensions: Total length 11" (28 cm) by 4" (10 cm) wide.

Safety Data Sheets
No Safety Data Sheets Found.

Spec Sheets
No Spec Sheets Found.

Product Features
Product Name
Product Code
Size
Container
Items Per Case
Case Weight
UPC Code
Round Cotton Swab Applicator
#GLS
11" x 2" (28 cm x 5 cm)
Boxed
50
7 lbs. (3.2 kg)
688544501599
#GLSA
11" x 2" (28 cm x 5 cm)
Boxed
12
2 lbs. (.9 kg)
688544121599