WHITLAM Open Mesh Cloth
WHITLAM OPEN MESH CLOTH is a 180 grit, brown, waterproof, reusable, open meshed abrasive cloth made of high grade aluminum oxide, impregnated into a strong screen-type nylon mesh to help produce a tight, leakproof solder joint. Open Mesh Cloth can be used on metal and plastic tubing and pipe. It is made with waterproof phenolic resin adhesive.

RECOMMENDED USES: WHITLAM OPEN MESH CLOTH quickly cleans, deoxidizes and polishes solder joints prior to sweat soldering. It is a completely waterproof abrasive cloth and is not affected by most oils and solvents. It will not fill up or become clogged, due to its open mesh design. Both sides of this abrasive cloth can be used, giving it a longer useful life.
Waterproof and reusable - Extremely Flexible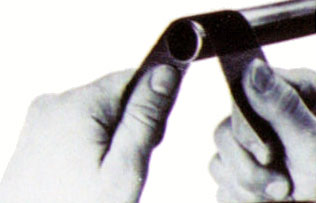 Nylon, open mesh, abrasive cloth for cleaning copper pipe.

Safety Data Sheets

Spec Sheets

Product Features
Product Name
Product Code
Size
Container
Items Per Case
Case Weight
UPC Code
Open Mesh Cloth
OM5
1-1/2" x 5 yd. (3.81 cm x 4.54 m)
Boxed
50
14 lbs. (6.4 kg)
688544050615
OM5A
1-1/2" x 5 yd. (3.81 cm x 4.54 m)
Boxed
24
7 lbs. (3.2 kg)
688544050622
OM10
1-1/2" x 10 yd. (3.81 cm x 9.08 m)
Boxed
50
23 lbs. (10.4 kg)
688544100617
OM10A
1-1/2" x 10 yd. (3.81 cm x 9.08 m)
Boxed
24
11 lbs. (5 kg)
688544100631
OM25
1-1/2" x 25 yd. (3.81 cm x 22.7 m)
Boxed
20
21 lbs. (9.5 kg)
688544025613
OM25A
1-1/2" x 25 yd. (3.81 cm x 22.7 m)
Boxed
12
14 lbs. (6.4 kg)
688544250640